Let us introduce ourselves, we are…
All barred up – bars for all occasions
Our new home and permanent bar at Ross Rugby Club
If you're looking to have a trip to the pub why not come to Ross Rugby Club at the bottom of Greytree where you can enjoy a refreshing drink with plenty of room for social distancing. We have a new bar along with the biggest beer garden in Ross and great indoor space. Loads of room for the kids to play.
With the chaos that has been caused during 2020 & 2021, we diversified the All Barred Up offering. With so many festivals and events cancelled due to Covid-19, we decided to set up a permanent bar where we can continue to offer the Best of All Barred Up at our new fixed location, Ross Rugby Club. As the world gets back to the new normal, and events start to take place once again the traditional All Barred Up experience will resume, but we will continue to offer our fixed bar experience at Ross Rugby Club.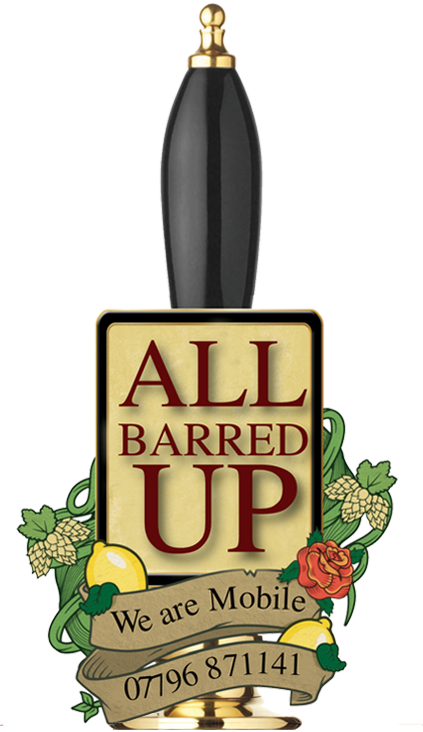 All barred Up was first established in 2011, when we bought our first trailer to convert into a bar. Since that first conversion, All Barred Up has gone from strength to strength. Today, our core business is festival bar provision, installation and management, delivering tailored solutions and outcomes for clients the length and breadth of the UK.
Everything we do is focused on the delivery of a fully managed, hassle-free bar solution to event organisers, adding real value to the event. We are extremely proud to have worked with some of the best festivals, and corporate event organisers in the UK. All Barred Up have literally been raising the bar at festivals and events since 2011, our company ethos is to continue making a festival a festival!
All our staff are all experienced, passionate bar professionals, and are as diverse as our bars, full of fun, friendly and ultimately committed to providing the perfect bar experience to any event.
We specialise in small to medium-sized music festivals (500 – 25,000) where we work alongside the organisers to create genuinely unique and exciting events. Although our speciality is in small to medium-sized venues, we are fully equipped to deal with far larger events as well. We also run bars at corporate events, pop-up venues, sporting events, product launches and private parties. We offer a thoroughly cost-effective solution for outsourcing the management of your bars ensuring great bars with maximum profit return to you.
Our Bars
Take a look at the range of bar solutions we offer
Festivals / Events
Fully managed festival & event bar solutions
Our Suppliers
We believe we work with the best suppliers out there
ALL BARRED UP – BARS FOR ALL OCCASSIONS
From small events to full-on festivals, we're able to meet your refreshment requirements and provide all licences, glassware and any accessories you may require. Our staff are well-presented, professional and provide a great customer experience.
During the past year, we have also become a fully recyclable event bar provider – implementing a reusable cup scheme where the cost of the first drink is increased by £1 to 'rent' a cup – at the end of the event, returned cups will get the deposit of £1 returned. This scheme has dramatically reduced plastic waste as the events we attend. Read more here